Services | Research and Development Centre and Laboratory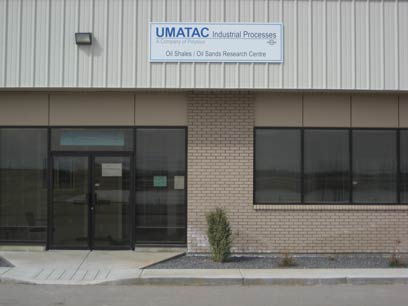 UMATAC Research Laboratory and Pilot Plant
UMATAC's research and development centre and laboratory in Calgary, Alberta is equipped with bench scale test equipment that are used to carry out preliminary assessments, followed by progressively more detailed and focused test work once the ATP Technology potential is established.
With this and other laboratory facilities, UMATAC performs treatability tests on candidate feed stocks for treatment by the ATP System. Products from these tests are analyzed for quality and environmental characterizations to assess the potential use of the ATP System. Typical UMATAC oil shale testing equipment and project development stages are as follows:
Stage I - The Modified Fischer Assay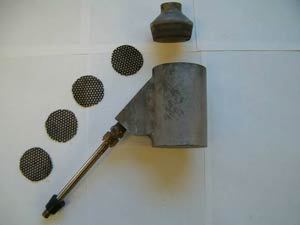 The MFA Apparatus
This is the 1st stage of small scale testing that is quick easy to perform on small samples. The Modified Fischer Assay (MFA) uses approximately 100 g of oil shale feed per test. It is useful for providing a pyrolysis yield characterization, preliminary ore grade assessment and provides basic oil, gas, and coke solids samples for analysis.
Stage II - The Batch Retort Unit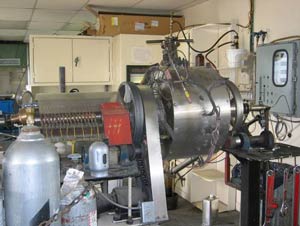 The Batch Unit Retort
This is the 2nd stage of testing, again, at small scale. This unit requires approximately 2,500 g of feed per test. It helps determine pyrolysis yield sensitivity and allows us to study combustion and drying behaviour of the oil shale. This test enables production of larger oil samples for detailed characterization and more closely simulates behaviour of commercial scale equipment.
Stage III - The Continuous Flow 100 kg/h Unit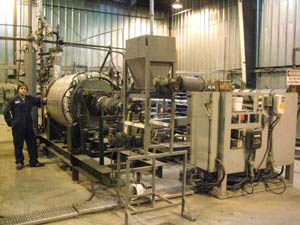 The 100 kg/h Continuous Flow Unit
This is the 3rd stage of testing at an intermediate scale between the batch unit retort and the 5 t/h feed capacity pilot plant. This unit is able to process a feed sample of 100 kg/h. It is located at UMATAC's R&D Centre and is used to study processing characteristics of candidate feedstocks.
The 4th stage of testing is at a larger scale using the ATP60.
Stage IV - ATP60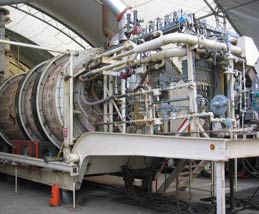 The 5 t/h ATP60 Pilot Processor
The ATP60 is a transportable ATP Plant and was dubbed the "ATP60" because it produces about 60 bbl/day of oil when processing 5 t/h of average grade oil sand ore. This unit was commissioned in 1992 and is suitable for:
Demonstrating the process.
Testing treatability of candidate feedstocks at pilot scale; and
Commercial operations to treat wastes or contaminated materials.
This plant, in particular, has been used to process about 3,200 tonnes of oil shale, over 12,600 tonnes of oil sand, 100 tonnes of heavy oil, and 2,000 tonnes of contaminated soil.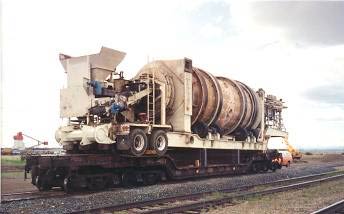 Transport of the ATP60 Shown on a Rail Car to Eastern Canada (circa 1994)
The plant is available to demonstrate and pilot test bulk samples of candidate feedstocks at the Calgary location or, alternatively, at the site(s) of the feedstocks.