Projects | Jordan Energy and Mining Limited / Karak International Oil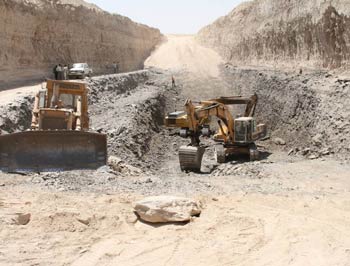 Al Lajjun Test Mine Opened to Obtain ATP60 Bulk Oil Shale Sample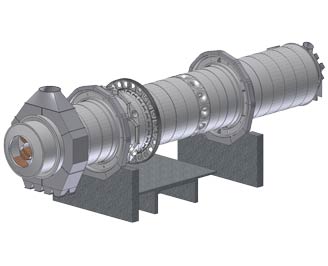 11.5m (outer diameter) x 76 m (length) Model of KIO ATP Processor � 500 t/h Capacity
Karak International Oil (KIO) is a company that is developing an oil shale project in Jordan. KIO is owned by a UK company called Jordan Energy and Mining Limited (JEML). UMATAC completed an ATP60 pilot testing program for JEML on the Al Lajjun oil shale reserve in Jordan. The project entails building two 500 t/h ATP Processor trains to use oil shale from the Al Lajjun reserve in Jordan. After the pilot plant testing preliminary engineering design was completed as well as an ATP System feasibility study. The feasibility study was a multi-party effort which was completed in 2009/2010.
An oil shale upgrader and power plant will be built as part of the project. Hydrotreating pilot testing was completed by two licensors and product quality options (SCO or finished transport fuels) were produced. The plans include building a gas turbine power plant powered by the ATP produced excess off gas which would be electrically self sufficient.
UMATAC is now preparing to move into the FEED and detailed engineering phase of this project.